Fitness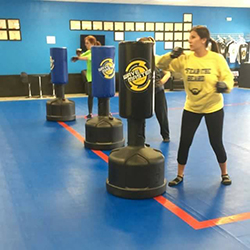 OK Ladies, if you're looking for a way to get in shape, lose weight, and build an overall stronger and healthier you then our Ladies Fitness class might be just what you need! This class is supervised by our Certified Personal Trainer, Amy Endsley. Each class is between 30 & 40 minutes and is guaranteed to get you moving and motivated!
Ms. Amy utilizes a wide variety of routines to "mix things up" and make sure that you are getting the most out of your workout. Some days focus on particular body areas, such as legs or upper body while some days are a total body workout. The workouts include Cardio Kickboxing, Kettlebells, and MMA Fitness using our padded "grappling dummies" as well as a healthy dose of body-weight exercises.
If you're ready to get started give us a call or contact us using the form on this website. We'll be happy to set you up with a couple of FREE trial classes!
Use the form below to request more info or schedule your Free Trial Program!